Our Expertise
U Nay Oke – Chairman, UniEBS Pte Ltd.
​U Nay Oke is a prominent figure that has helped shaped the reform of education in Myanmar and has joined "UniEBS" as an Honorary Patron. Born on 11th September 1946 in Sagaing region, Myanmar U Nay Oke holds a Diploma in French, Bachelor of Science degree, Bachelor of Arts degree, and Master of Arts degree.

In 1965, he was appointed by the Myanmar Ministry of Information to be assistant director in charge of selecting movies to be screened in the country. He joined the Faculty of English at the University of Yangon as a lecturing tutor in 1968. Six years later in 1976, he left government service to establish the Institute of English, which became the biggest and most successful private language school in Myanmar, teaching five thousand local students each year including many high-profile individuals.

He is a member of the executive committee of the Education Network for the National League for Democracy (NLD); coordinating community schools in the network with international educational institutions and non-governmental organizations. U Nay Oke recently established an Education Foundation for Underprivileged Students, which will provide scholarship funds to underprivileged students from all over the country. He also gives weekly English lessons on Skynets' Education channel followed by hundreds of thousands of teachers & students across Myanmar - which is similar to "EBS" program that intends to launch by "UniEBS"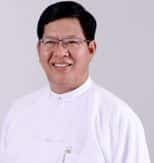 U Yan Naing Tun - Chairman & Founding Member, EBS University Co., Ltd
​Mr. Yan Naing Tun was born in February 19, 1964 in Myitkyina, Kachin State. He completed his high school education from B.E.H.S (1) Myitkyina in 1980. In 1987, he graduated with a B. Sc (D.S.A) awarded by the Defence Services Academy (D.S.A), 28th intake in Pyin Oo Lwin. From 1987-1991, Mr. Yan Naing Tun possesses great leadership qualities which are evidenced by his stint as a Deputy Managing Director of Asia Wings Airlines and currently oversees the day-to-day operations of a chain of 17 premium hotels as a Deputy Managing Director, in Myanmar.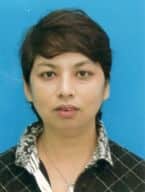 Datin Syazana Parawadi Bte Abdullah - Founding Member, UniEBS
​Graduated from Stamford College upon completion of her Private Secretarial Course, Datin Syazana has since perfected her organizational and managements skills to head the Admin and Human Resource Department.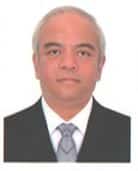 ​ U Aung Zaw Myint - Director/Acting CEO, UniEBS Pte Ltd
Mr. Aung, graduated with a B.Sc (Hons.) and M.Sc (Computer Science) from the Rangoon Arts and Science University. From 1982 to 1990 he was involved with the University Computer Center. He founded and was Chairman of Winner Computer Group between 1990 and 2010. He was appointed President of the Myanmar Computer Industry Association - 1998 – 2008.

Since 2001, he has been the Vice Chairman of Myanmar ICT Development Corporation. He is also the founder and Chairman of Bagan Business Group Co Ltd. (since 2012) as well as founder and Managing Director of Bagan ISP Co., Ltd (since 2015). Along with these assignments Mr. Aung is also an acting director for UniEBS Pte. Ltd. (Singapore) and its subsidiary company in Myanmar, He is also a Chairman and executive director of Bagan Trading Co Ltd which involves in constructions materials supply business for past 6 years. U Aung Zaw Myint is also a Chairman of Fintech company, Frontier Technology Partners Pte. Ltd. in Singapore with wholly own subsidiary company also known as Frontier Technology Co Ltd in Myanmar, which operates the only electronic payment gateway approved by the Central Bank of Myanmar. Mr. Aung's companies are listed in the "Top 250 Tax Paying Companies in Myanmar".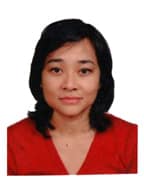 ​​Daw Nweni Hlaing - Director, UniEBS Pte Ltd
Ms. Nweni graduated with a B.A in Computer Science from Hunter College at the Cities University of New York as well as a Master Degree in Computer Science from New York University, USA. She was previously employed by the UNDP New York, USA - 1994 to 1996. Subsequently, she worked with Keane Inc of New York, USA - 1996 to 2009. Today: In 2012 Ms. Nweni founded and is the present Managing Director of Bagan Business Group Co., Ltd. including also acting as Director of Bagan ISP Co., Ltd since 2015.



Dato Kamal Rashid – Director, UniEBS Pte Ltd
Dato Kamal is an experienced and successful businessman. He is well known in the oil & gas sector in Myanmar, Singapore & Malaysia. He has been involved in the industry for over 20 years. This has given him an excellent understanding of the Myanmar Economy and business conducts. He's well known among the influential & high net worth individuals in Myanmar. He has been actively participating in the development of "UniEBS" project as a founding member.



Dr. Ye Myat Htoo, MBBS - Director of Business Development
After completing his Medical studies and graduating from University of Medicine (1) Yangon, with a M.B.B.S, Dr. Ye Myat Htoo joined UniEBS as a Director of Business Development.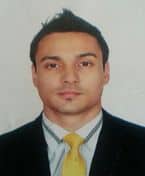 Mr. Dimitri Rizzi, BBA - EBS Project Director
After studying a foundation in law, he graduated with a Bachelor's degree in Business Administration from California USA. Dimitri Rizzi has been employed as a Project Manager in "UCM" since March 2013. His exposure has gained him over 5 years of experience in; Marketing, Business Development & Corporate Communications in industries such as EBS, Corporate Finance, and raising fund with equity firm. He also has experience in compliance and corporate governance in the capital markets.



Professor Dato' Dr Jayles Yeoh - Special Academic Advisor, UniEBS,
Professor Dato Dr. Jayles Yeoh, who has a Ph.D., in Business Administration and Management is the Founder & CEO of AIMSMET Executive Education and the Vice-President & Chairman of the Education & Training Bureau, of the ASEAN Retail Chains & EVP Federation (ARFF); Dato Jayles also acts as Co-Chairman of the International Federation of Chamber & Commerce, (IFCC), USA;. He was awarded as Honorary Director, South western University of Finance & Economics, Sichuan, China and Advisor to the Malaysia Digital Chamber of Commerce (MDCC)



Dr. Maurice Dimmock, PhD - Chairman & CEO, ASIC UK
Maurice Dimmock is founder, director and chief executive of the ASIC organisation that inspects and accredits private colleges which want to admit foreign students. The Accreditation Service for International Colleges & Universities (ASIC) which has awarded 180 institutions with ASIC's stamp of approval since Maurice set up the Accreditation Service in 2007. Today ASIC is one of the leading Accreditation Body Internationally and he leads the UniEBS& ASIC Partnership framework for ASEAN.



Dr. Lawrence Watson - Qualifications Advisor & Chief Inspector, UniEBS-ASIC
After holding teaching posts at Durham and Birmingham City Universities, in 1975 Dr Watson became a member of the start-up staff team at Buckingham University, where he served for sixteen years as one of the administrative deans, with special responsibility for student recruitment, and as head of the School of Languages and Cultures. There he developed one of the prototypes of the British University International Office. In 1991, he joined Northumbria University where he took operational charge of international work, helping the institution to become one of the most internationally active of all UK universities, before moving on to form his own consultancy company.

In the 1970s he pioneered the now widespread alliances between UK universities and the private HE college sector. He has been involved with the Accreditation Service for International Colleges (ASIC) since its inception in 2006. He serves ASIC as Chief Inspector and as Qualifications Adviser, and is a member of the Accreditation Committee. For several years, he has also chaired the board of trustees of Kensington College of Business.